This is Part II of a TheMediaReport.com Special Report. For Part I, go here.
TheMediaReport.com has uncovered even more episodes of collaboration between individuals in the Philadelphia District Attorney's Office and the Catholic Church-bashing advocacy group SNAP (Survivors Network of those Abused by Priests).
3. An October 13, 2006, forum at Temple University School of Law (Philadelphia) convened to discuss the aftermath of the 2005 Philadelphia grand jury report on the Catholic Church. Featured panelists included:
- Lynne Abraham, then-District Attorney of Philadelphia,
- Maureen McCartney, former Ass't. D.A. of Philadelphia (worked on Philly's 2003-2005 investigation of the Church. McCartney co-wrote a nasty 2006 letter with Mariana Sorensen to Cardinal Rigali.),
- Marci A. Hamilton, law professor and attorney for SNAP, and
- John Salveson, FACSA / former head of SNAP Philadelphia.
Leaders of SNAP Philadelphia were also reportedly present.
4. An August 5, 2008, panel discussion – presented in part by SNAP – convened at the Siegel Jewish Community Center in Wilmington, Delaware, to discuss – again – legislative efforts to lift statutes of limitations for abuse claims. As the photos below show, featured speakers included:
- Charles F. Gallagher III, Deputy D.A. of Philadelphia,
- Marci Hamilton, law professor and SNAP attorney, and
- Joelle Casteix, "Southwest Director" of SNAP.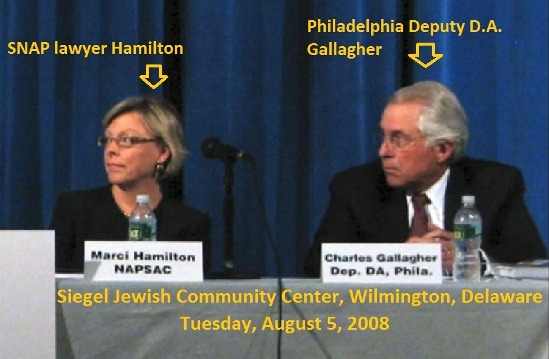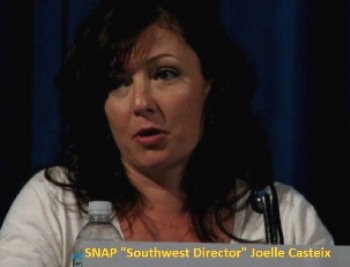 Is collaboration between SNAP and the Philadelphia D.A.'s Office illegal? A knowledgeable lawyer can answer that.
Nevertheless, the partnership certainly helps to explain the extreme hostility and acrimony with which Philadelphia has relentlessly pursued the Catholic Church in the past several years. With three grand jury reports in the last decade (not just two, as widely reported), the Philly D.A.'s office has not targeted any other organization for its past abuses with the same prosecutorial zeal. Not – even – close.
(Meanwhile, while Philadelphia aggressively prosecutes the Church, the Pittsburgh District Attorney – just a stone's throw away in a sense – recently closed an inquiry against the Church and determined "none of the allegations merited criminal prosecution" (Fri. 8/12/11). Hmmm.)
The troublesome associations between SNAP and individuals in the Philly D.A.'s office should raise serious concern.
This unseemly kinship strongly suggests that the Catholic Church is not receiving equal justice and equitable scrutiny under the law. And that is wrong.