The facts on this one are pretty simple. In its crusade to attack the Catholic Church, the controversial advocacy group SNAP (Survivors Network of those Abused by Priests) made the startling claim that a "credibly accused child molester" – a suspended Catholic priest – was living in a Connecticut child day care center. SNAP's National Director, David Clohessy, flew almost halfway across the country from Missouri to Connecticut to summon the media and air his alarming charge.
Lest there be any doubt about the claim, here is a screenshot from SNAP's web site:

"CT predator lives @ day care center." It does not get any clearer than that. SNAP also reported the name and address of the day care center in a press release under the following headline:

There is one major problem with all of this, however. The claim is false.
On Wednesday (5/25/11), the Connecticut Department of Public Health (DPH) released a statement to WTNH/Channel 8:
"DCF's [Department of Children and Families'] inquiry was closed, finding [the accused priest] does not, in fact, live at the house, does not care for any of the children, and will not be present at the house while there are children there … DPH's … preliminary findings are the same as DCF's."
In other words, two separate and thorough investigations by two different state agencies – and conducted at two different times – completely refuted SNAP's claim.
Meanwhile, as a result of SNAP's false charge, a completely innocent woman and her day care business have been recklessly tarnished. (Imagine hearing on the news that a "predator" was living at the day care center that cares for your child!)
The owner of the day care is Debra Zakrzewski. WTNH reporter Jamie Muro relayed that Ms. Zakrzewski told him that SNAP's claim is "ruining" her and her business. Standing outside Ms. Zakrzewski's home day care, Muro reported (Wed., 5/25/11):
"I went inside [and] spoke with her. She didn't want to go on camera, but she did tell me that this whole situation is basically nuts, crazy. She says it's ruining her, ruining her business. She tells me that DCF has come here before, combed through the house, has found no problems. And in fact, she has a lawyer and is now investigating legal options against SNAP."
Ms. Zakrzewski also told the Bristol Press that the accused priest has never lived in her home. "This is absolutely crazy," she added. "Just because you know someone you can be accused of something like this?"
"I've run a day care here for 30 years, and there has never been a problem."
Unbelievable.
When asked at a press conference for his evidence that the accused priest was living in the day care, Clohessy simply replied,
"A couple people have said they specifically have seen [the accused priest] around the children."
Pretty flimsy, eh?
SNAP's long history of wild charges and attacks on innocent priests have been very well chronicled. But now SNAP is needlessly smearing innocent parties – people who have scant connection to the Church or the scandals.
It sure seems that SNAP owes this woman a profound, public apology. If SNAP has any respect for common decency, it will do so.
Will SNAP step up? TheMediaReport.com will not hold its breath, but stay tuned.
And all the best to Ms. Zakrzewski with her inquiry of a lawsuit.
***UPDATE, JUNE 1, 2011***
A full week after Connecticut public officials completely refuted SNAP's charge, SNAP continues to feature the bogus claim prominently on its home page! Here's a screenshot from earlier today: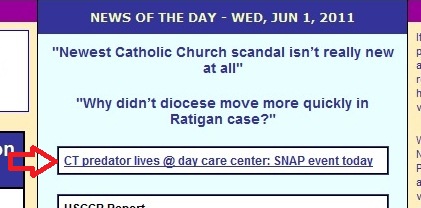 Not cool, SNAP. Not cool at all.