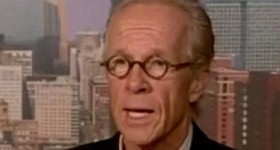 Minneapolis abuse attorney Jeff Anderson has quietly dropped his high-profile lawsuit against the Vatican that made quite a splash in the media when he filed it in April 2011.
At the time of the lawsuit, observers branded Anderson's tactic as a "publicity stunt." Now it appears that view was correct.
Check out the excellent analysis from John L. Allen, Jr. at Vatican Radio.
"I think it is enormously important that this case is not longer on the docket, because this was the case centred on revelations about Father Lawrence Murphy who allegedly abused almost 200 kids at a school for the deaf in the Milwaukee area from 1950 until 1974," said John Allen, Vatican correspondent for the National Catholic Reporter.

"This was the case that triggered the global media firestorm in early 2010 that led to a very incendiary front page piece in the New York Times suggesting that the Vatican and Pope Benedict had failed to respond aggressively to the crisis, and really did galvanize and shift public perceptions in very important ways," he told Vatican Radio. "So that fact that this case has now in a sense died on the vine does mark the end of what has been a very important chapter in this story."

Attorney for the Holy See, Jeffrey S. Lena called the original claim "outworn and discredited" in a statement released on Friday. "Mythology about the Catholic Church to the contrary, the Holy See is not responsible for the supervision of the more than 400,000 priests around the world," he said. "Attorneys in this case knew that, and their knowledge of this fact is precisely what made the filing of this lawsuit so pernicious in the first place — such misuse of the legal process leads to disrespect for lawyers and courts, and never helps the pursuit of legitimate legal claims."
By the way, the New York Times reported on the lawsuit in its 'A' section when it was filed. It has not reported Anderson's withdrawal, however.